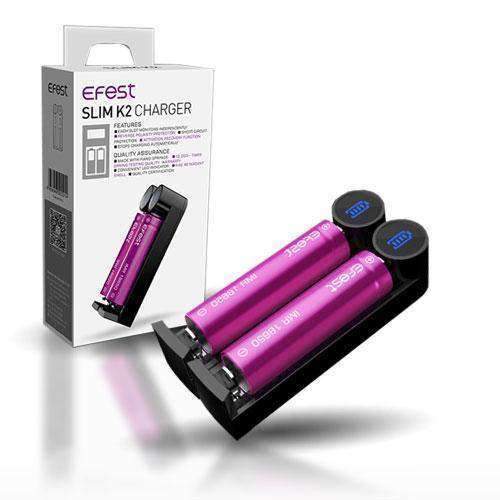 Efest SLIM K2 Intelligent Charger
The Efest Slim K2 charger is a portable 2 port intelligent charger with a fast 1.0A charge that was made to charge different sized batteries and comes with multiple protections so you can charge safely.
The Slim K2 charger may be petite but it is constructed with the highest quality. The spring is crafted from piano wire and has been tested to spring 15,000+ times. Steel cathode brings low resistance and hard chromium plating is implemented to provide a more precise charging voltage.
Product Specifications:
Fast charging: 1.0 amp charge
Accommodates 3.6V and 3.7V lithium batteries in different sizes
Reverse polarity protection
Activation function
Auto detect charging function
Over charging protection
Short circuit protection
Certifications: CE & RoHS
Package Contents:
1x Slim K2 Charger by Efest
1x USB cable
1x Warranty card
1x Operation manual