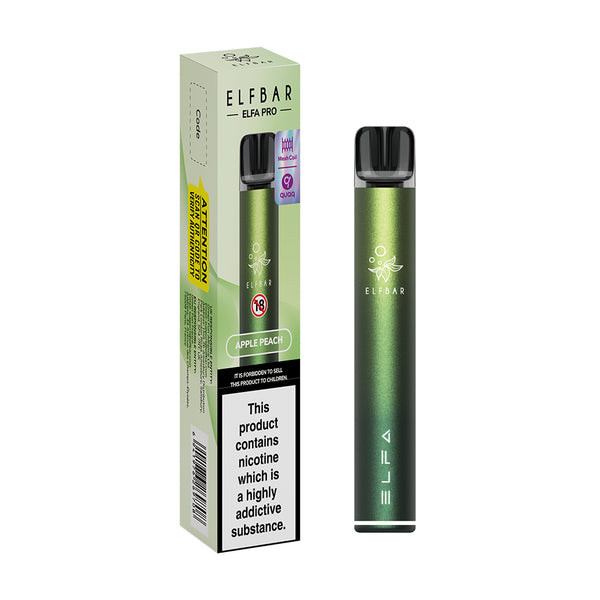 The Elfa Pro pod vape kit represents an enhanced iteration of the well-received Elfa kit. Compact and user-friendly, the Elfa Pro employs pre-filled e-liquid pods and a rechargeable battery, providing a straightforward alternative to disposable vapes. Perfect for on-the-go usage, it delivers an authentic Mouth To Lung (MTL) inhalation experience. The package includes an initial Elfa Pro pod for immediate use. When an e-liquid pod is depleted, it can be effortlessly replaced with a fresh one.
Thanks to its inhale-activated mechanism and button-free design, there's no need to be concerned about adjusting settings or navigating menus. Simply press up on the pod's black base to break the seal. Afterward, insert the pod into the device and inhale through the mouthpiece to enjoy an MTL vaping encounter that produces discreet vapour akin to a traditional cigarette. Recharging the Elfa Pro is swift using a USB-C cable (available separately).
Elfa Pro pods arrive pre-filled with 2ml of 20mg nicotine salt e-liquid. Nicotine salts are rapidly absorbed by the body to swiftly satisfy cravings and deliver a gentle throat hit. Each pod offers up to 600 puffs. The built-in 1.2 Ohm QUAQ tech mesh coil enhances flavour due to its ample surface area and highly absorbent wicking material. The Elfa Pro device is compatible with both Elfa and Elfa Pro pods. These ranges encompass flavors inspired by the popular Elf Bar disposable vapes, alongside numerous exclusive blends.
Each variant of the Elfa Pro pod kit comes with a different pod flavour; refer to the list below for detail.
Blue - Kiwi Passion Fruit Guava
Aurora Purple - Watermelon
Black - Blue Razz Lemonade
Navy Blue - Blueberry Sour Raspberry
Twilight - Mixed Berries
Twilight Brown - Cola
Aurora Pink - Pink Lemonade
Aurora Green - Apple Peach
Specification:
500mAh Built-In Battery
Up To 600 Puffs Per Pod
2ml Prefilled Pods
Inhale Activated
20mg Nicotine Salt Strength
MTL Vaping
Elfa & Elfa Pro Pod Compatible
Contains:
Elfa Pro Pod Vape Device
1 x Elfa Pro Pod