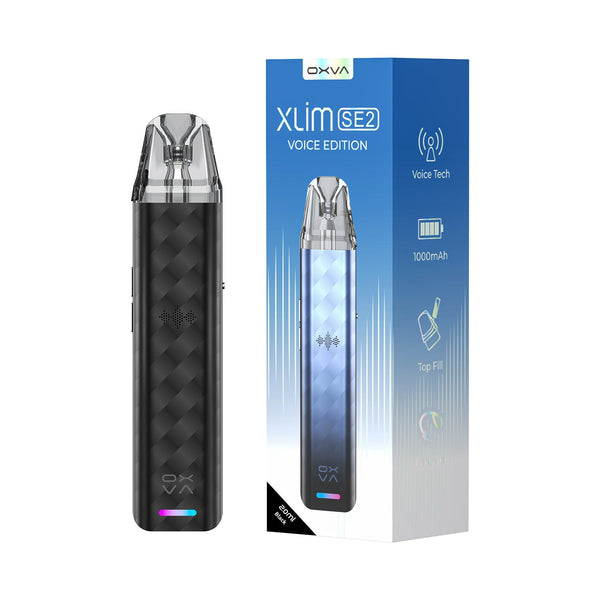 Meet the XLIM SE 2, OXVA's latest innovation in vaping technology. Boasting a formidable 30W maximum output power and an extended 1000mAh battery life, this device delivers an exceptional three days of vaping on a single charge. Its sleek design, complete with a colourful RGB battery indicator, ensures not only an elegant appearance but also maximum efficiency by minimizing power consumption.

What sets the XLIM SE 2 apart is its commitment to accessibility. Featuring voice broadcasting technology, the device provides real-time updates on crucial information, catering to users with visual impairments or limited mobility. The versatility of the XLIM series cartridges, accommodating Freebase and Nicsalt e-liquids with options ranging from 0.4Ω to 1.2Ω, ensures a customizable and enjoyable vaping experience for all preferences.

The XLIM SE 2 comes with enhanced specifications, including a 2ml/2ml(TPD) top-fill cartridge, 0.33-3.0Ω resistance range, side airflow control, and a durable aluminium alloy and PCTG construction. As with all OXVA products, safety is paramount, with a clear warning about nicotine's addictive nature and a reminder that the device is designed exclusively for adult smokers of legal age. The XLIM SE 2 is not just a vaping device; it's a stylish blend of power, accessibility, and customization.
Specifications:

Output Power: 5-30W
Battery Capacity: 1000mAh
Cartridge Capacity: 2ml/2ml(TPD)
Resistance Range: 0.33-3.0Ω
Cartridge Options: 0.4Ω / 0.6Ω / 0.8Ω / 1.2Ω
Charging: 5V/1A, Type-C
Material: Aluminium alloy + PCTG
Dimensions: 24.214.0112.7mm
Weight: 44.5g
Airflow Control: Side AFC
RGB Lighting Effect: Colorful Marquee
Voice Broadcasting Technology: Yes
Contents:
1 x XLIM SE 2 Device
1 x Top Fill Cartridge 0.6Ω(pre-installed)
1 x Top Fill Cartridge 0.8Ω
1 x Type-C Cable
1 x User Manual
1 x Lanyard