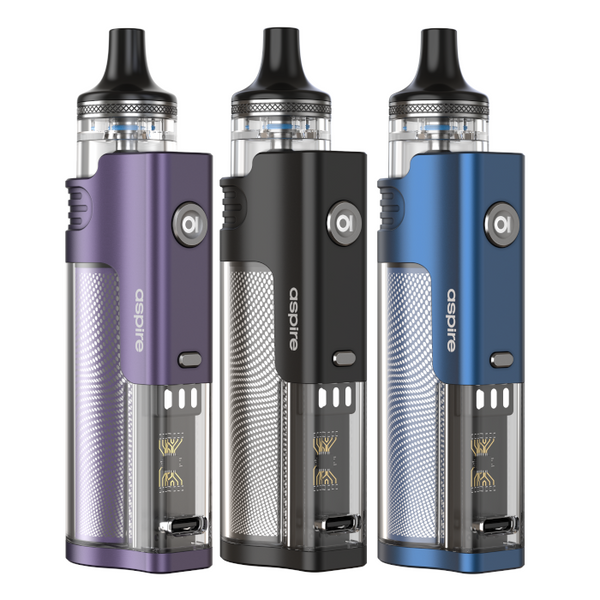 The Aspire Flexus AIO is a user-friendly pod kit catering to MTL (Mouth To Lung) and RDTL (Restricted Direct To Lung) vaping preferences. With its built-in 2000mAh battery, it ensures a lasting power supply throughout the day, making it an excellent choice for those seeking a dependable, everyday vaping experience. The device intelligently recognizes the coil in use, automatically adjusting the wattage for optimal performance, though manual wattage adjustments are also available. The kit includes two coils to kickstart your vaping journey – simply add e-liquid.

Starting with the Flexus AIO is a breeze – insert a pod, fill it with e-liquid, and either inhale through the mouthpiece or press and hold the fire button. The device allows you to either rely on automatic power output selection based on your coil or manually toggle between low, medium, and high output levels using the mode button. LED indicators inform you about the battery status, and recharging is swift thanks to the USB-C cable and 2A fast charging.

The Flexus AIO pods boast a straightforward top-filling design – unscrew the mouthpiece to access the fill port without the need to detach the pod. These pods are compatible with the Aspire AF coil series. The 1.0 Ohm coil provides a tight MTL vape, resembling a cigarette with minimal vapour, while the 0.6 Ohm coil allows for an RDTL inhale, generating larger vapour clouds. For added customization, the pod can be rotated to adjust the airflow, tailoring each inhale to your preference.
Specification:
2000mAh Built-In Battery
Aspire ASP Chipset
Low, Medium And High Wattage Modes
2ml Pod Capacity
Top-Filling Design
Adjustable Airflow
Contents:
Aspire Flexus AIO Device
Aspire Flexus AIO Pod
AF 0.6 Ohm Mesh Coil (Pre-Installed)
AF 1.0 Ohm Mesh Coil
USB-C Charging Cable
User Manual