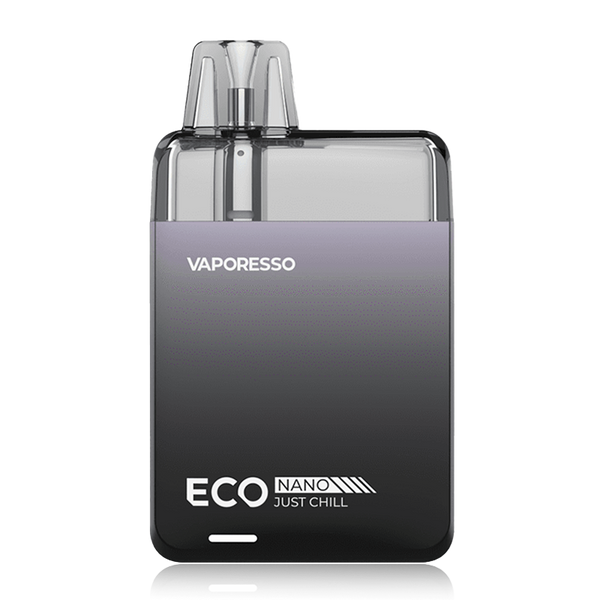 The Vaporesso Eco Nano pod kit offers a compact and lightweight vaping solution suitable for both beginners and experienced users. Featuring a sturdy 1000mAh battery, it ensures prolonged usage between charges, providing a 16W power output that's ideal for a satisfying MTL (Mouth To Lung) vape. This kit includes a 0.8 Ohm refillable pod to initiate your vaping experience.

User-friendly, the Eco Nano operates just like a disposable vape, activated by simply inhaling from the mouthpiece. There are no buttons or intricate menus to navigate – it replicates the sensation of smoking a cigarette. With a fully charged 1000mAh battery, it can last 2-3 days, and thanks to USB-C fast charging, downtime is minimal.

The 2ml pod is easily refilled through the bottom filling port. Each pod contains a built-in 0.8 Ohm Morph-Mesh coil (a 1.2 Ohm version is available separately) featuring Corex heating technology for swift, even heating and enhanced flavour. 
Features:

Battery Capacity: 1000mAh
Power Output: 5-16W
Vaping Style: Mouth To Lung (MTL)
Pod Type: 2ml Refillable Pod
Refilling: Side-Fill
Coil Type: Built-In Mesh Coils
Airflow: Fixed
Upkeep Required: Refilling & Changing Pods
Contains:

Eco Nano 1000mAh Device
Eco Nano 0.8 Ohm 2ml Pod
User Manual